Wood and Canvas Canoes
Cedar Strip Canoes
Wooden Wanigans
Wooden Canoe Parts
Leather Tumplines
Hand Carved Paddles
Canoe Poles And Pole Shoes
Woodworking Tools
Folding Bucksaws
Plastic Trail Toboggans
Ice Hooks
And More...
Contact
POLE and PADDLE CANOE
Donald E Merchant
Master Maine Guide
680 Deerwander Road
Hollis Ctr, Maine 04042
207-468-2512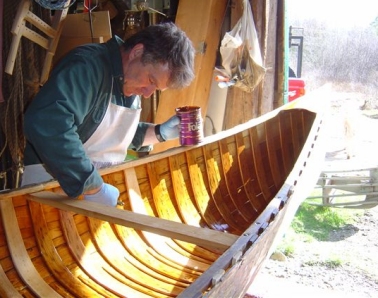 The last few years have seen a rekindled interest in the traditional ways of outdoor living. More and more people are discovering that traditional gear isn't just a throwback to an earlier era, it also works well season after season. In many cases, the traditional patterns and designs outperform more modern, hi-tech ones. The reason for this is that those traditions evolved over hundreds, and sometimes thousands, of years.
We've been in business since 1986 and my canoes and gear have seen hard use from Maine to Alaska season after season. As a result of this hard use, I've made a few changes and adjustments to ensure that products that carry my name are durable and dependable, and will be so for years to come. I continue to provide equipment and ideas for those practicing the traditional ways of canoeing, camping, and outdoor living, and I take pride in the fact that my gear is chosen by many full-time guides and outfitters. Unless otherwise noted, it's made in my shop right here in Maine. Take a look at what I have to offer and call or email if you have any questions.
Don Merchant
"Guiding commercial trips and running 12-week traditional wilderness living and travel courses means that I'm tough on gear. I'm used to things breaking, not working, and simply wearing out. Don's gear has taken more abuse than I care to put into words. I know that I can depend on it, and my clients are always commenting how beautiful everything is. From pole points to wooden wanigans to leather tump lines, Don has consistently provided me with hard to find traditional products made with outstanding quality."
Tim Smith, Owner
Jack Mountain Bushcraft & Guide Service